March 12, 2023
St. Patrick's Day Treasure Hunt
Presented by LONG Creations & Embark Websites
These designs were created to help make this St. Patrick's Day even more fun for your little/s. 16 clues to encourage your child/children to hunt for their special "treasure". Each one sends them searching around the house, finally leading to their surprise at the end.

The clues are left open so you can mix and match as you wish, allowing you to decide the order of the clues. Feel free to use all 16 or just the ones you want :)
Includes:
16 treasure Hunt clues
1 Introduction card
1 congratulations (end of hunt) card
Locations include:
Fridge
bath
clock
oven/microwave
toilet
laundry room (washing machine)
board game / game
sink
shoes
bedroom (bed)
coat rack (coats)
piggy bank or wallet/purse
by phone/s
plate cupboard
something green (your choice) e.g. plant
dinning table
HOW TO USE THIS FILE
Included in this webspace is a PDF file of the "treasure hunt clues" shown here, simply save this file by clicking on the DOWNLOAD THIS FREE CREATION button at the bottom of the page. Then print onto *3* letter size (8.5"x11") paper or card stock. Cut out each clue and then set up the hunt for this st. patrick's day.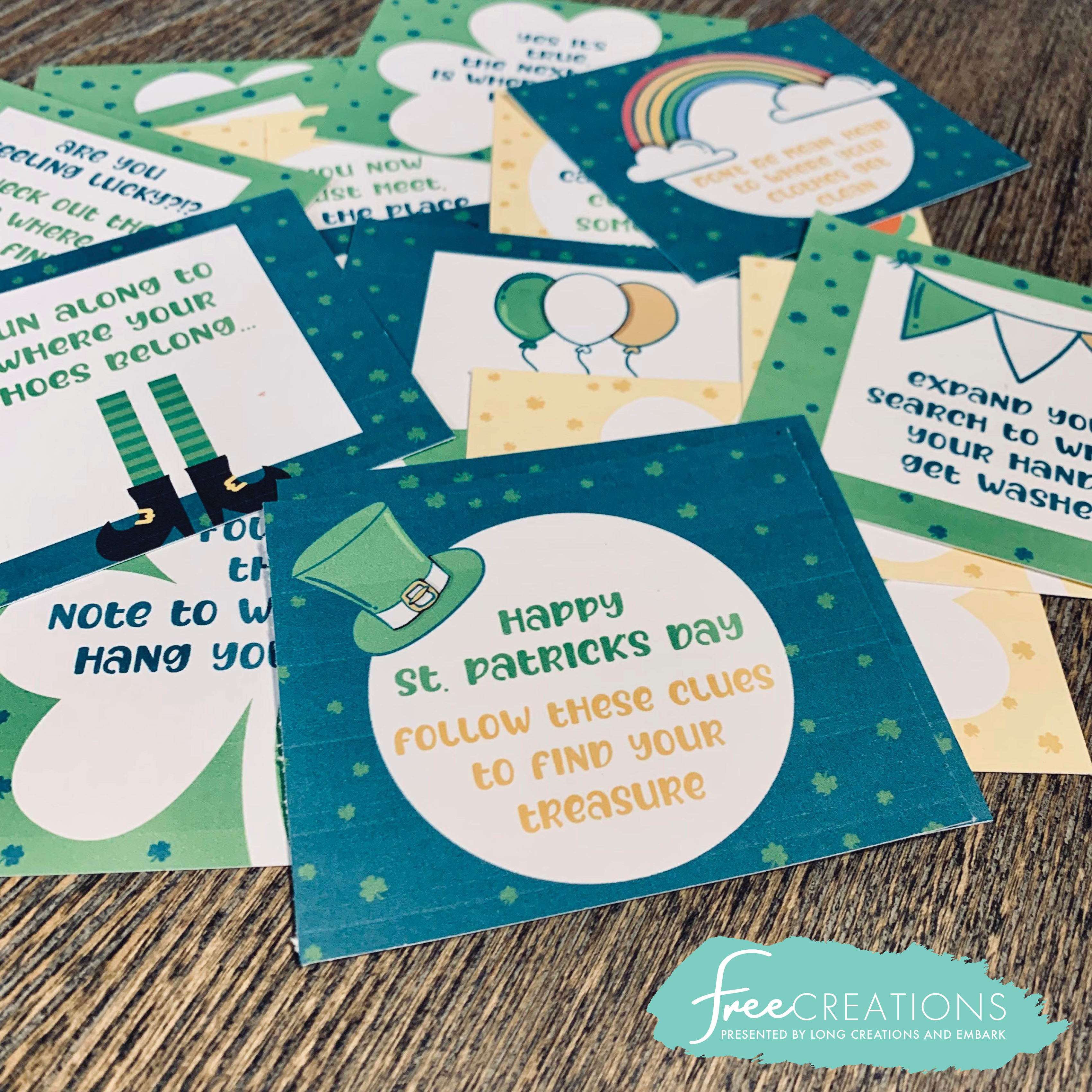 ---
A little bit about freeCREATIONS
"Hi" I am Natalie Long of LONG Creations, the mama and graphic designer behind the designs shown on this webspace. In 2020 I became "internet famous" when I created and shared some COVID-19 Time Capsules pages I had created for my children as a free gift through my Facebook page..... and the rest as they say is history!
I am constantly designing activities and keepsakes for my kids. freeCREATIONS was created in order to share these designs with all of you. Thanks to EMBARK for hosting this space and allowing me to share these files with you all for FREE.
Find Long Creations:
Facebook
-
Instagram
-
Website