December 29, 2022
My Year In Review
Presented by LONG Creations & Embark Websites
And just like that.... another year has passed which is always a reminder of how fast the kids are growing and how much they change each year! This simple one page design is a perfect way to document their interests and highlights from the passing year, as well as touching on their hopes for the New Year.
Make it a New Years tradition and keepsake for years to come.
With sections including:
Their Fav things this year
A spot to place a photo or draw a picture of themselves
My year in 3 words
Some highlights from the past year
Plans for next year...
Use this worksheet to help get the conversation started with your kid/s about the year they have had and create something for them to look back on in years to come!
HOW TO USE THIS FILE
Included in this webspace is a PDF file of the "MY YEAR IN REVIEW" worksheet shown, save this file by clicking on the DOWNLOAD THIS FREE CREATION button at the bottom of the page. Then simply print onto a letter size (8.5"x11") piece of paper. Provide your child with pens and/or pencils and work through the sheet together. Save the completed worksheet in a keepsake box, re-print every year and REPEAT!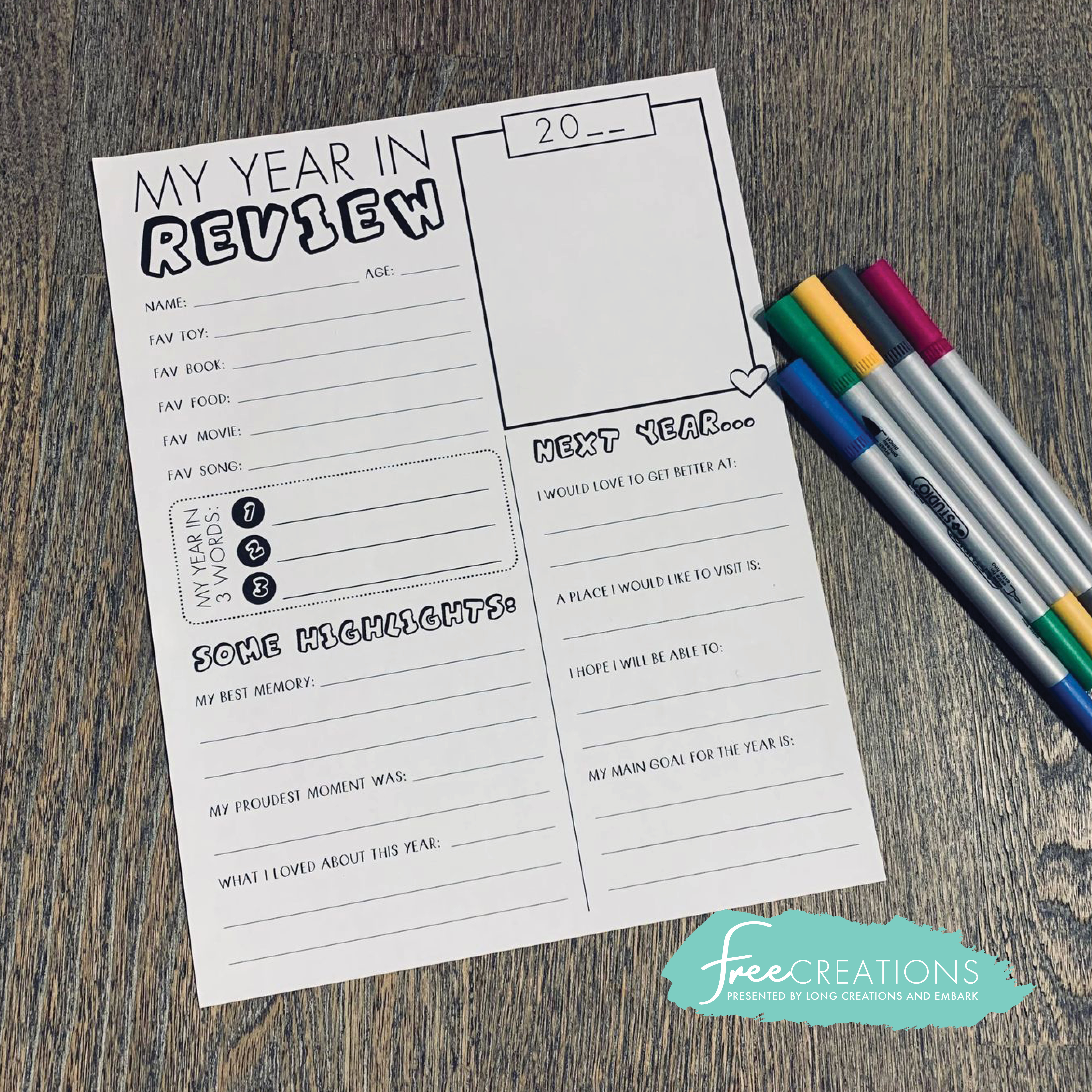 ---
A little bit about freeCREATIONS
"Hi" I am Natalie Long of LONG Creations, the mama and graphic designer behind the designs shown on this webspace. In 2020 I became "internet famous" when I created and shared some COVID-19 Time Capsules pages I had created for my children as a free gift through my Facebook page..... and the rest as they say is history!
I am constantly designing activities and keepsakes for my kids. freeCREATIONS was created in order to share these designs with all of you. Thanks to EMBARK for hosting this space and allowing me to share these files with you all for FREE.
Find Long Creations:
Facebook
-
Instagram
-
Website