January 21, 2023
14 days of LOVE NOTES for kids
Presented by LONG Creations & Embark Websites
Show your love in the build up to Valentine's Day this year with these DIY printable LOVE NOTES.
Includes 14 days of hearts with different prompts to help you celebrate all the things that you love about your little.
Simply fill in each heart and add to their door, mirror or closet each day from February 1st - 14th. Making a fun and unique way to express your love in the build up to Valentine's Day.
14 days of love notes with prompts including:
one thing I love about you is...
you are so...
I love that you...
you make me smile when...
I love it when you...
You amaze me when you...
You are so great at...
You are special because...
I love it when you say...
I love your...
I love it when we...
I admire your...
You are my...
I love you because...
HOW TO USE THIS FILE
Included in this webspace is a PDF file of the "heart-love-notes" shown here, simply save this file by clicking on the DOWNLOAD THIS FREE CREATION button at the bottom of the page. Then print onto *4* letter size (8.5"x11") paper or card stock. Cut out each heart, add the childs name to the first one, and fill out all the spots. To make a fun countdown to Valentine's day 2023.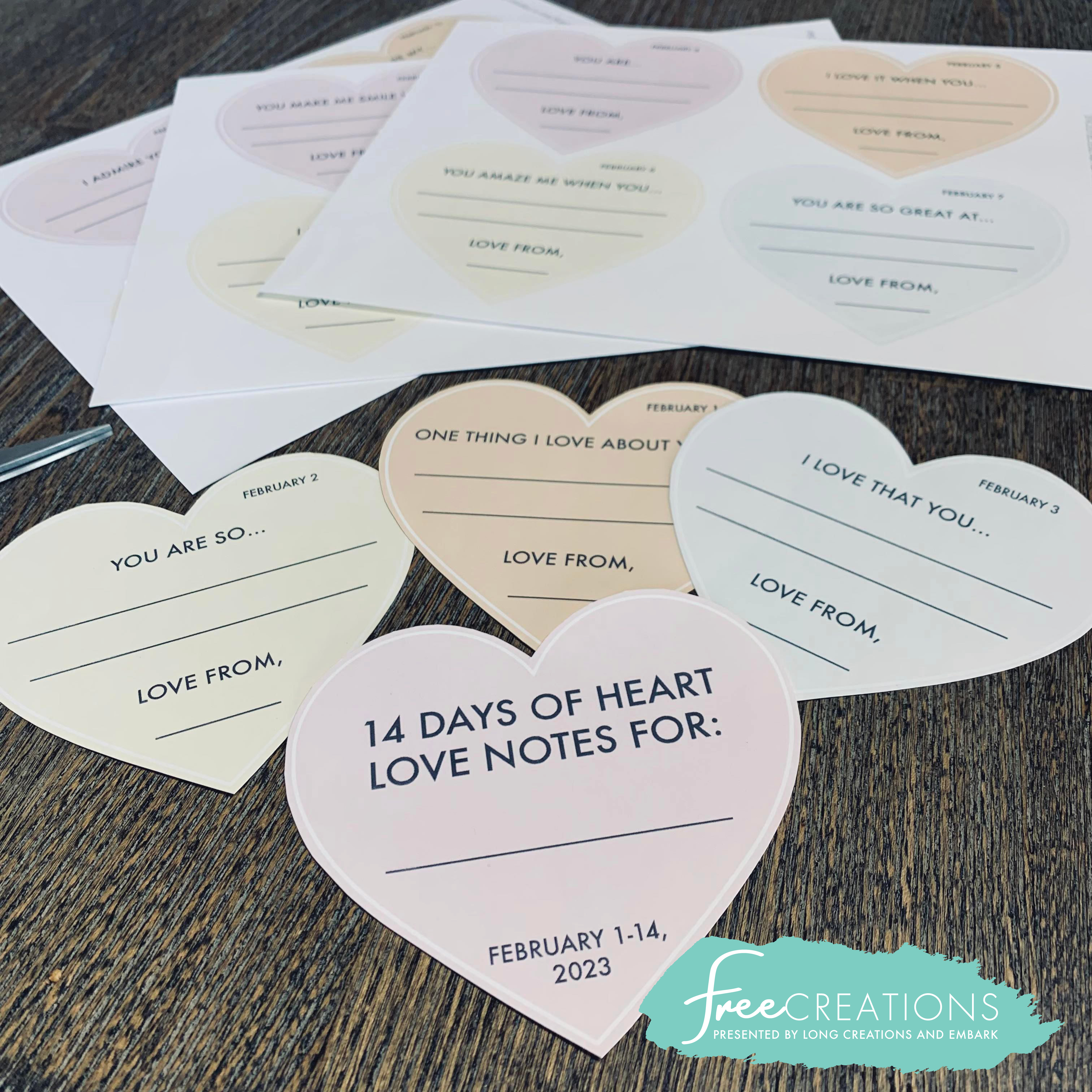 ---
A little bit about freeCREATIONS
"Hi" I am Natalie Long of LONG Creations, the mama and graphic designer behind the designs shown on this webspace. In 2020 I became "internet famous" when I created and shared some COVID-19 Time Capsules pages I had created for my children as a free gift through my Facebook page..... and the rest as they say is history!
I am constantly designing activities and keepsakes for my kids. freeCREATIONS was created in order to share these designs with all of you. Thanks to EMBARK for hosting this space and allowing me to share these files with you all for FREE.
Find Long Creations:
Facebook
-
Instagram
-
Website