June 21, 2023
All about my TEACHER
Presented by LONG Creations & Embark Websites
All about my TEACHER....
I created this cute printable design for my children to fill in about their amazing teachers this year.... they really have loved every moment with them and had such lovely things to say, so I wanted to record some in a design....
This interview style design has been created to help guide your child in answering basic questions about their teacher this year :)
Record the sweet (or funny) answers on this sheet, the end result is sure to make the perfect teacher gift and keepsake.
This easy to fill out design includes:
7 simple questions
Space for answers
Spot for a hand drawn picture of their teacher
Use this letter size sheet to interview your child, recording all the answers as you go!
HOW TO USE THIS FILE
Included in this webspace is a PDF file of the "All about my TEACHER" page shown, save this file by clicking on the DOWNLOAD THIS FREE CREATION button at the bottom of the page. Then simply print onto a letter size (8.5"x11") piece of paper. Interview your child, using a pen to record the answers on this page.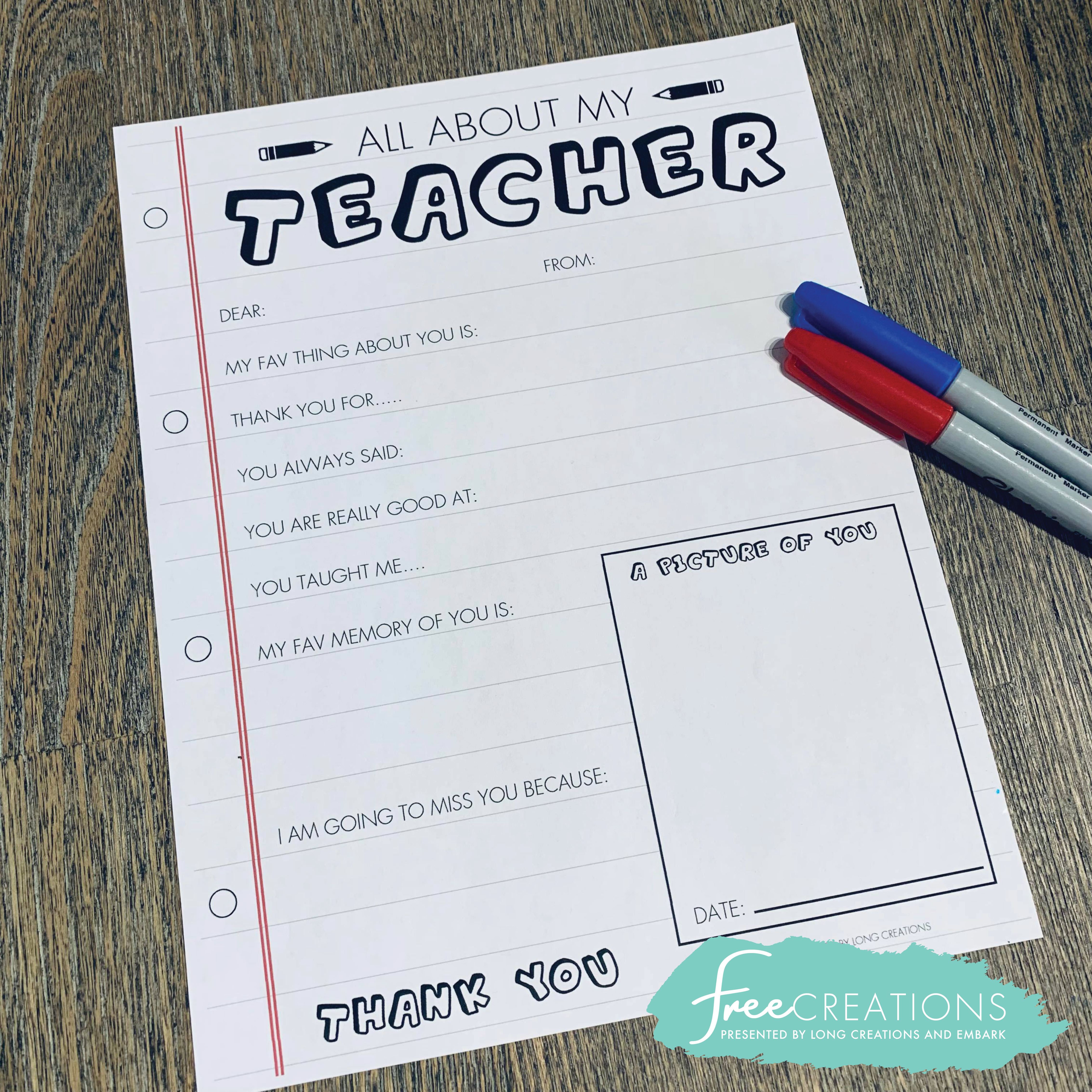 ---
A little bit about freeCREATIONS
"Hi" I am Natalie Long of LONG Creations, the mama and graphic designer behind the designs shown on this webspace. In 2020 I became "internet famous" when I created and shared some COVID-19 Time Capsules pages I had created for my children as a free gift through my Facebook page..... and the rest as they say is history!
I am constantly designing activities and keepsakes for my kids. freeCREATIONS was created in order to share these designs with all of you. Thanks to EMBARK for hosting this space and allowing me to share these files with you all for FREE.
Find Long Creations:
Facebook
-
Instagram
-
Website